Nära ögat — Swedish 1950s and 1960s Experimental Film
When speaking of Swedish experimental cinema, three filmmakers usually come up: Viking Eggeling (the father of abstract film), Peter Weiss (the world-famous author, also known as a director of political documentaries and surrealist short films) and Gunvor Nelson (one of the best-known female directors of American experimental film). In addition to these three artists, the representatives of contemporary Swedish moving image art are also fairly well known.
From an international perspective, however, Swedish experimental filmmaking was in touch with the times already in the early 1950s. The Stockholm Film Workshop (Svensk Experimentfilmstudio) was founded in 1950, and a couple of years later a group of artists, all linked with Pontus Hultén, became interested in film as a tool for artistic expression. The multi-talented Hultén is best known as the director of Moderna Museet and Centre Pompidou.
Nära ögat presents some of the films made over those years, and how their heritage was continued in the 1960s.
The first three films represent the early productions of The Stockholm Film Workshop. They are experiments in film aesthetics, typical for their time. They are followed by four films from the prime movers of Swedish art history: An animation created jointly by Robert Breer and Pontus Hultén, a film by Carl Fredrik Reutersvärd and two works by P.O. Ultvedt. The second film by Ultvedt is a recently discovered exhibition documentation, now being screened publicly for the first time. What linked these four artists was an interest in kinetic art and an anarcho-dadaist outlook on life.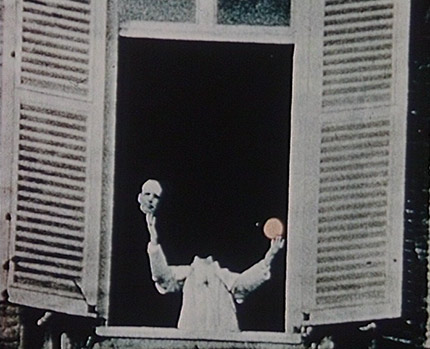 Robert Breer & Pontus Hultén: Un Miracle (1953)
The two films by Hans Nordenström in the programme are rare gems. Nordenström was also an acquaintance of Hultén's, and an important background figure in 1950s art circles. Later on he became an architect, which can be perceived in the way he regards filmmaking. Film aesthetics are not only a language for communication, but can also be used to conceptualise and record space. A large part of Nordenström's output consists of unfinished works. Because of the small number of official works, these films have been screened very rarely. Nordenström's untitled film in the programme at Avanto has in all likelihood never been screened publicly before.
The last four films represent the heritage of the 1960s and the trends of the time. Filmmakers Ralph Lundstén, Åke Karlung, Ann Robertsson and Claes Söderquist were all either raised by Moderna Museet or drew inspiration from its dynamic culture. The films simultaneously reflect the political turn that took place during the 1960s, although the style of expression is very personal, and different from one film to another. Claes Söderquist's Travelogue is a documentary about America and American artists of the time. The high points of Swedish experimental film culture in the 1960s were the extensive exhibitions and screenings of contemporary American art and avant-garde film at the Moderna Museet.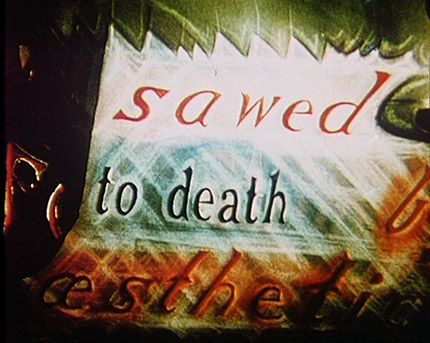 Åke Karlung: Generalrepetition för självmord (1963)
Nära ögat is an eye-opening survey of a culture and a tradition that rarely gets seen and is not very well known. The Swedish phrase "nära ögat" means both "close to the eye" — meaning these works are to be watched closely — and "a close shave", in the sense that they are experiments and, as such, risks that have been taken consciously. What brings the films and filmmakers featured in the programme together is a dream of unlimited cinema, one which can irritate, make a person laugh and charm in a free and uncompelled manner, without any rules set out in advance.
John Sundholm
Nära ögat – Swedish 1950s and 1960s Experimental Film
curated by John Sundholm
Lennart Arnér & Lennart Johansson: Slussen (1951, 3')
Råland Häggbom: Tema (1950, 3')
Björn Lüning: Study in Optical Rhythm (1953, 2 x 3')
Robert Breer & Pontus Hultén: Un Miracle (1953, 30'')
Carl Fredrik Reutersvärd: Försvinnaren (1957, 3')
P. O. Ultvedt: Nära ögat (1958, 4')
P. O. Ultvedt: [Documentation of an Exhibition at Iolas Gallery, New York] (1963, 4')
Hans Nordenström: [Untitled] (1950s, 7')
Hans Nordenström: Motto (1960s, 12')
Ralph Lundsten & Rolf Nilsson: Främmande planet (1963, 7')
Åke Karlung: Generalrepetition för självmord (1963, 3')
Ann Robertsson: N (1967, 3')
Claes Söderquist: Travelogue (1969, 30')
Total duration: 86 minutes.
Orion on Saturday, 17 November at 7 pm,
second screening on Sunday, 18 November at 6 pm,
both screenings presented by John Sundholm.
John Sundholm (1964–) is a researcher at the University of Karlstad who specialises in experimental cinema. He is the head of a research project on Swedish experimental film and has organised the international AVANT conference since 2002.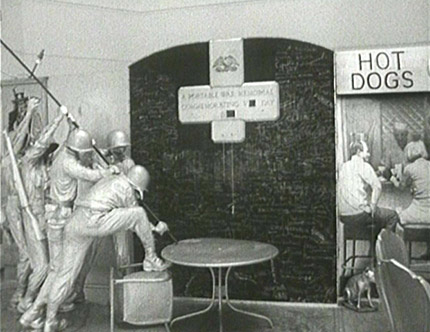 Claes Söderquist: Travelogue (1969)