Heat Energy
Eddie Prévost (1942–) and Alan Wilkinson (1955–) are in charge of our club night's heat energy. The aesthetic approach of the duo, drawing from the traditions of free improvisation and free jazz, gives form to music in the moment it is played. Wilkinson takes his alto and baritone saxophones to their limits, while Prévost's percussion work casts aside the traditional task of maintaining pace, expanding to a crisscrossing stream of pulse instead. The texture, ranging from quiet murmur to total tumult, moves as if on wings, following a logic of its own.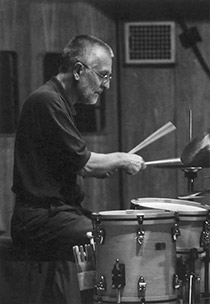 Eddie Prévost
Eddie Prévost is one of the most important names of the first wave of European free improvisation. As the percussionist of AMM, founded in the 1960s, he has substantially influenced the development of improvised music as we now know it. The collective, still active after four decades, has radically challenged our understanding of what makes music what it is. The music of the band, operating almost completely without melodic and rhythmic points of reference, is best described using visual metaphors: it opens up as surfaces and spaces. At its best, the group reaches a near-magical state of concentration, a unity that sounds more like a collective consciousness than a band. In addition to being one of the founding members of AMM, Prévost is also known for his pedagogic work and for his writings focusing on improvisation. The title of one of his works, No Sound is Innocent, would also be fitting as the aesthetic slogan of AMM. In his writings, Prévost has examined the political and communal aspects of improvisation; on a practical level he has confronted these questions in his weekly improvisation workshops, which have been active in London for over ten years now.
Playing with Wilkinson, Prévost shows his jazz side, one that was left unheard in the music of AMM. Many of his bands over the last two decades have taken jazz as their starting point. As both The Eddie Prévost Band and his collaborative projects with, among others, Tom Chant and John Edwards have shown, Prévost is completely at home playing in a piano-less jazz trio.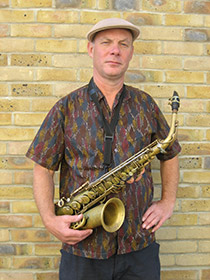 Alan Wilkinson
Alan Wilkinson is best known from the power jazz trio formed by himself, Simon H. Fell and Paul Hession. The trio, founded in late 1980s, has recorded for labels such as Thurston Moore's Ecstatic Peace. Their music is a journey into the nucleus of heat. With an almost intimidating accuracy, the musicians reach levels of energy that radiate to the quieter moments of their music as well. This is also characteristic of the improvised music played by Eddie Prévost & Alan Wilkinson, which charges the sound and the fury as well as the quiet and the empty with intensities.
Taneli Tuominen
Avanto/Potlatch Club in Gloria on Saturday, 17 November from 9 pm to 3 am
Eddie Prévost & Alan Wilkinson's lecture Improvisation: A Discourse of Musical Discovery – the Practice of Self-Invention and Social Invention at the University of Helsinki (Mariankatu 11, hall 5) on Friday, 16 November 12:00 to 3 pm. The lecture is organised in cooperation with the University of Helsinki's Departments of Aesthetics and Musicology.