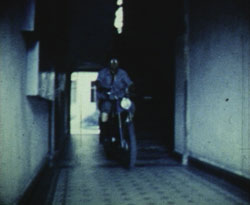 Stiletto Studios : Formel Super VIII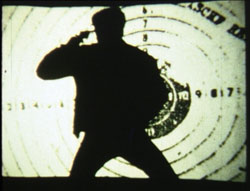 Notorische Reflexe : Fragment Video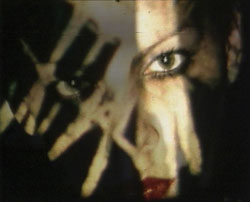 Hormel/Bühler: Geld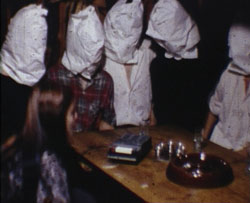 Die Tödliche Doris: Berliner Küchenmusik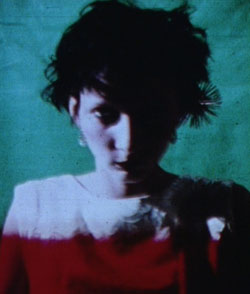 Maye & Rendschmid : Without Love there is no Death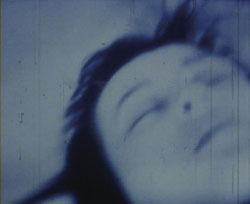 Butzmann & Kiesel : Spanish Fly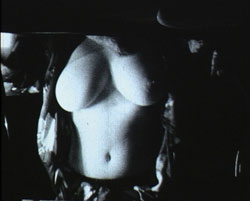 Christoph Doering : 3302–Taxi Film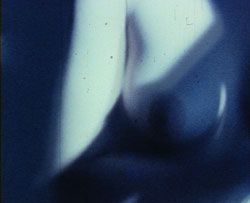 Brand & Maschmann : E Dopo?
Ika Schier : Wedding Night
Brilliant amateurs
"Our music isn't notes any more, and it's not important what sort of sounds it is: the only important thing is what it is and that it's biased."– Blixa Bargeld in Geniale Dilletanten ("Ingenious Dilettantes" Merve, 1982).
In the beginning of the 1980s, West Berlin was a walled-off island of decadence in the middle of the communist DDR. An urban culture of bars and clubs was thriving in the city that lived at night. The cheap Super 8 film format, already becoming obsolete in the early 80s, was the cinematic equivalent of punk in Berlin. Cameras and projectors were available at flea markets for next to nothing, and, with the lightweight equipment, screenings could be arranged spontaneously in the seediest of venues. In a fevered frenzy the musicians, photographers, painters and filmmakers of the city's underground art scene collaborated in cross-disciplinary joint projects. Underground filmmaking became a cycle somewhat resembling a circular argument: filmmakers, who were often also musicians, started shooting performances given by their colleagues, which in turn would more often than not include screenings of works by their friends, and so on. "We became nocturnal creatures: dressed in black, cool, pale, untouchable. Naturally, this draining lifestyle called for the right 'helpers', especially speed", filmmaker Rolf S. Wolkenstein reminisces.
The best of these films were dark, apocalyptic visions, which combined various techniques in radical experiments of the filmic form. Music, performance and happening fused together in a variety of Super 8 club events (in such legendary places as Risiko and S.O. 36), as well as at the first Super 8 film festival, Interfilm 1, in 1982. Except for a few exceptions, such as Einstürzende Neubauten and Malaria, this proudly "amateurish" movement remained unknown but for a small circle of contemporaries.
Christoph Doering : 3302–Taxi Film (1979, 14:35)
Butzmann & Kiesel : Spanish Fly (1979, 4:42)
Maye & Rendschmid : Without Love there is no Death (1980, 4:28)
Brand & Maschmann : E Dopo? (1981, 3:15)
Hormel/Bühler : Money (1982, 4:10)
Die Tödliche Doris : Berlin Kitchen Music (1982, 5:17)
Stiletto Studios : Formel Super VIII (1983, 1:49)
Notorische Reflexe : Fragment Video (1983, 12:06)
Ika Schier : Wedding Night (1982/2004, 3:56)
All the films are from the excellent anthology Berlin Super 80: Music & Film Underground West Berlin 1978 – 1984 (Monitorpop Entertainment, 2005) containing a DVD, a CD and a book, all heartily recommended by Avanto!
A selection of nine Berlin Super 80 films will be screened at the Avanto Nightclub in Gloria on Saturday, November 19th.
http://www.springerin.at/dyn/heft_text.php?textid=1594&lang=en