Avant-garde and progress
The 'Crystals and Curves - Scientific and Avant-Garde Films 1923-1996' programme was originally put together by Joost Rekveld as part of a much larger manifestation which took place last year at the Dutch Filmmuseum in Amsterdam. This programme was called '4D in the Filmmuseum' and it focused on the fascination of artists with images and concepts from science and technology. It featured experimental, industrial and scientific films, as well as an exhibition of ten installations commissioned for the occasion, a series of lectures and artists' presentations.
At the time in which film was still the newest medium, many artists were dreaming about ways to use film to relate to the new scientific ideas and technologies of the time and to realize some of their potential for social change. Although many of the art forms and utopias of that time are now possibly a thing of the past, the idea of the artist as a kind of researcher and 'spiritual antenna' for new developments is still very much relevant. In fact, it can be argued that in the last 80 years, science and technology have developed to the point where the human mind can not imagine or visualize most of the scientific concepts behind inventions which are at the same time profoundly transforming our society. Doesn't this gap between the reality of science and the reality of our imagination call for artists willing to bridge it ?
A bit less than a century ago there was much ado about the fourth dimension. Mystics and mathematicians were speculating about an extra dimension of space, at right angles to the three dimensions height, breadth and depth already familiar to us from daily life. By way of the fourth dimension spiritists were promising access to deceased loved ones. The new physics after Einstein considered time as a fourth dimension, suggesting stunning interactions between time and space. This cloud of ideas was a great source of inspiration for the new language of abstract art that came into existence in this period, and was food for the thoughts of artists such as Boccioni, Malevitch and Van Doesburg. They were not necessarily very well informed about the latest scientific developments of their time, but in their own work they found characteristics that seemed to be well covered by the new scientific terminology.
These phenomena around the fourth dimension share one common idea: the vision of a radically different point of view from which new connections suddenly come to light. The idea of a new dimension of some kind became a seed around which all kinds of notions of change and renewal could grow, technological as well as artistic and social. An essentially geometrical concept was suddenly endowed with great spiritual and emotional connotations. These thoughts found their most explicit formulation in 1936 in the otherwise rather obscure Manifeste Dimensioniste. This manifesto was written in Paris by the Hungarian poet Károly Sirató, and signed by about twenty artists, amongst them great names such as Moholy-Nagy, Calder, Duchamp, Kandinsky and Arp. The manifesto wanted to encourage the 'dimensionist' tendency in the arts, the tendency which pushed literature to leave the line in order to conquer the graphic page, in which painting breaks out of the plane and becomes three-dimensional, and where sculpture leaves the 'closed and dead' space of three dimensions in order to conquer the new, four-dimensional and kinetic space. And finally the manifesto announces a new 'cosmic and truly four-dimensional' art form: the 'evaporation of sculpture, a gaseous art without solid matter as material, where the spectator is no longer an outside observer, but where he himself, with the synthesis of all his senses, is both the center and the subject of art'.
Bauhaus artist László Moholy-Nagy was one of the signatories of the Manifeste Dimensioniste, and he had already discussed many of the ideas it contained in his earlier writings. In his books and teaching he continuously stressed the role of the artist as a 'maker of connections'. He enthusiastically embraced the new science, the new technologies and the new media of his time. He dreamt of the new possibilities, admired the new scientific imagery, but at the same time saw the increasing specialisation of scientists and technologists as a big danger to society. The specialist loses sight of the whole man, according to Moholy-Nagy, and for that reason technological development is not accompanied by the necessary emotional development, resulting in exploitation and war. This danger can be averted by the artist, by acting like a kind of 'spiritual antenna': making new technologies and concepts emotionally accessible by translating them into new experiences. The development of new perceptions is the first step in translating utopia into action.
The new film medium made it possible to have completely new experiences of speed and synchronicity and it made phenomena on nonhuman scales such as the micro- and macroscopical directly accessible to the senses of the audience. The cinema as a kind of psychophysical laboratory situation, in which the spectator is isolated from the outside world and subjected to 'stimuli' on the silver screen, was an important influence on visions of sensory fusion. In their search for a truly filmic art, many visual artists saw film as a kind of graphic art in motion, where the dimension of time was added to the already known two dimensions of the canvas or page, greatly enhancing their means of visual expression. Artists were also experimenting with other, more spatial forms of projection in attempt to develop an artform more suitable to the possibilities and demands of a new era. It is this vision of film as a medium to discover and uncover things that are not yet seen which comes closest to the use of film in scientific experiments. It is here that the romantic image of the scientist and the romantic image of the avant-garde artist overlap most: both try to visualize things not yet known, in a way which is the most direct and efficient, without too much regard for the images which already exist.
Joost Rekveld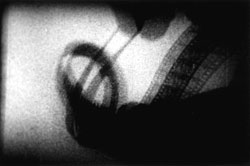 László Moholy-Nagy: Lichtspiel Schwarz-Weiss-Grau
László Moholy-Nagy: Lichtspiel Schwarz-Weiss-Grau
(16mm, 1930, 5'30, b/w, silent 24fps)
This is the film László Moholy-Nagy made of his 'Licht-Raum-Modulator', one of the first kinetic sculptures and probably his best known work. An important part of the sculpture is not the material object itself, but the play of light and shadow in the space around it: these shadows show the elements of the sculpture in ever changing constellations and thus show a glimpse of a 'fourth dimension'. This film is a composition of the light and shadow patterns generated by the Licht-Raum-Modulator, and originally Moholy-Nagy thought this to be the sixth and final part of a much longer film, dealing with space-time.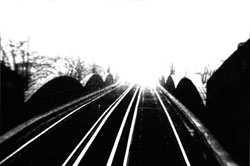 Henri Chomette: Jeux de reflets et de vitesse
Henri Chomette: Jeux de reflets et de vitesse
(16mm, 1923-25, 6', b/w, silent, 18fps)
Henri Chomette was the brother of René Clair and made two experimental films, both originally as part of a collaborative project with Man Ray. "The cinema is not limited to the representative mode. It can create, and has already created a sort of rhythm...Thanks to this rhythm the cinema can draw fresh strength from itself which, forgoing the logic of facts and the reality of objects, may beget a series of unknown visions, inconceivable outside the union of lens and film. Intrinsic cinema, or if you prefer, pure cinema - because it is separated from every other element, whether dramatic or documentary, is what certain works lead us to anticipate..." (Henri Chomette, 1924)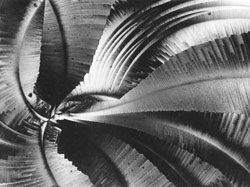 J.C. Mol: Uit het rijk der kristallen
J.C. Mol: Uit het rijk der kristallen
(35mm, 19??, 13', b/w, sound 24fps)
The title of this film translates as 'From the Realm of the Crystals', and it shows the enormous variety of crystal shapes under the microscope. J.C. Mol is the father of Dutch scientific cinematography, and this film was as famous amongst scientists as it was amongst the Dutch avant-garde filmmakers of that time, such as Joris Ivens. It was admired because of its photographic beauty and often discussed together with the early abstract films of the twenties and thirties.
Hy Hirsch: Gyromorphosis
(16mm, 1956, 7', colour, sound, 24fps)
The subject of this film is a sculpture by the Dutch painter and sculptor Constant Nieuwenhuis. Many of his sculptures are related to his 'New Babylon' project and are sketches of an utopic city of the future, in which all 'homo ludens' are nomads and do nothing but play: "They wander through the sectors of New Babylon seeking new experiences, as yet unknown ambiances. Without the passivity of tourists, but fully aware of the power they have to act upon the world, to transform it, recreate it. They dispose of a whole arsenal of technical implements for doing this, thanks to which they can make the desired changes without delay. Just like the painter, who with a mere handful of colors creates an infinite variety of forms, contrasts and styles, the New Babylonians can endlessly vary their environment, renew and vary it by using their technical implements." (Constant Nieuwenhuis, 1974)
Jun'ichi Okuyama: Shinto-Ga, Osmography
(16mm, 1994, 9', b/w, sound 24fps)
A cameraless film which was made by making contact prints of objects directly on the film strip. The image track is also identical to the sound track: the images you see generate the sounds you hear.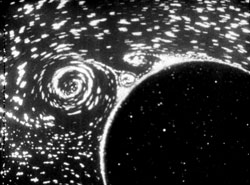 O. Tietjens, L. Prandh: Entstehung von Wirbeln bei in Wasser bewegte Körpern
O.Tietjens, L.Prandh: Entstehung von Wirbeln bei in Wasser bewegte Körpern
(35mm, 1925, ca. 10', b/w, silent 18fps)
One of the strictly scientific films in this programme, this film was made at the university of Göttingen, in Germany, and was part of the collection of the Dutch State Aerospace Research Service. It shows a sequence of experiments dealing with the movements in fluids and has gorgeous images of turbulences and vortexes.
Stan Brakhage: Commingled Containers
(16mm, 1996, 4', colour, silent 24fps)
This film can be considered as the filmic testament of Stan Brakhage. He made it towards the end of his life as he was preparing for cancer surgery. It is the culmination of his interest in 'refracted light', which started with his famous film The Text of Light from 1974. Brakhage said the title refers to bubbles, water, and life itself as commingled containers.
Len Lye: Particles in Space
(16mm, 1979, 4', b/w, sound 24fps)
Particles in Space is one of the last films Len Lye was able to finish, and it is one of the films he made by scratching onto black film. The film represents a kind of 'automatic writing' by Len Lye: repeating the same gestures over and over with tiny variations to achieve an incredible control over the movements in the film.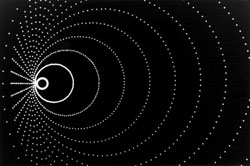 Larry Cuba: 3/78
Larry Cuba: 3/78
(16mm, 1978, 6', b/w, sound)
Larry Cuba taught himself computer animation at the Jet Propulsion Lab before becoming the assistant of John Witney for his film Arabesque. Cuba himself made four films in the course of his thirty year career, which can be seen in the balanced contruction of his films and his attention to detail. In this film, 16 objects, each consisting of 100 luminous points, go through a series of precisely choreographed rhythmic transformations.
Robert Fairthorne, Brian Salt: Equation X+X=0
(35mm, 1936, 5', b/w, silent)
Animationsof lines in motion were seen as an useful way to visualize mathematical concepts or mathematical proofs. Most mathematical films have been made as an aid for teachers, and this film is no exception. Robert Fairthorne was a mathematician with an immense interest in avant-garde film, and he saw aesthetic potential in the educational animations Brian Salt was making. 'If abstract films are really abstract films ...they deal exclusively with those abstract relations that can be expressed in terms of shape and motion', wrote Robert Fairthorne in 1936.
Stan Vanderbeek: Symmetricks
(16mm, 1971, 6', b/w, sound)
An early computer animation, descibed by Vanderbeek as 'digital fingerpainting'. Curves drawn on the computer screen by way of a light pen are then mirrored and multiplied.
Thierry Vincens: Giraglia
(35mm scope, 1968, 6', colour, sound)
This film is the perfect counterpoint to its famous soundtrack: the music Pierre Henry and Michel Colombier had made the year before for the ballet Messe pour le temps présent by Maurice Béjart. It is one of the most spectacular abstract films ever made: in gorgous colourful cinemascope, the screen explodes again and again with textures of hot wax in cold water.
Crystals and Curves - Scientific and Avant-Garde Films 1923-1996 will be screened at Orion on Saturday 19 November at 19.00 and on Sunday 20 November at 18.00. The curator of the screening Joost Rekveld will be present at both screenings.