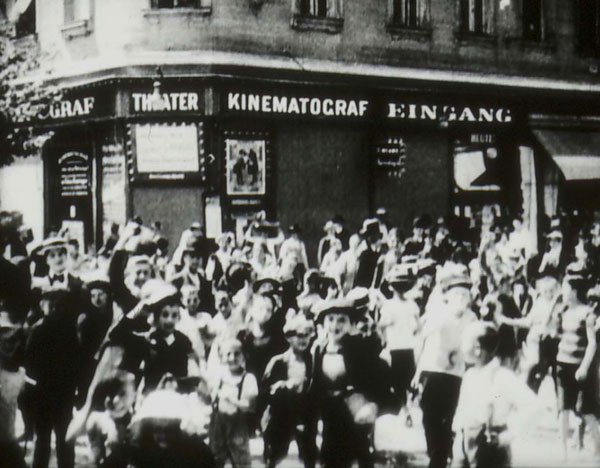 Daydreams of a cinephiliac
Gustav Deutsch, based in Vienna, is one of the masters of found footage films and, among those who keep an eye on latest developments in experimental cinema, a name already familiar from his impressive opus Film Ist. 1-12 (Avanto 2001 & 2002). For Deutsch, recycling old film footage is not an occasion for vague and superficial "media criticism", but instead a very natural and seemingly effortless way of observing the world in and through the magical radiance of cinema. For Deutsch, "accidentally discovered" material is more a result of long and arduous background research collecting factual evidence of almost archaeological dimensions from the dead angles and forgotten domains of the history of cinema.
Deutsch is now coming to Avanto with his brand-new film World Mirror Cinema (2005). The film takes as its starting points three street scenes in front of three cinemas nearly a hundred years ago: the Kinematograf Theater Erdberg in Vienna in 1912, the Apollo Theater in Surabaya and the Cinema São Mamede Infesta in Porto in 1929. Accidental passers-by in Austria, Indonesia and Portugal become the unwitting participants of Deutsch's surreal fantasy game. Time after time, the image zooms on a single person, after which we witness a historical episode from this person's (imaginary) life.
We will also screen a selection of early short films by Gustav Deutsch, which are described below. Some of them are so short and dense in their expression that Mr. Deutsch has requested them to be screened twice in succession!
GUSTAV DEUTSCH: World Mirror Cinema (93min, 2005, music by Burkhard Stangl and Christian Fennesz)
Episode 1 : Kinematograf Theater Erdberg, Wien 1912
Episode 2 : Apollo Theater, Surabaya 1929
Episode 3 : Cinema São Mamede Infesta, Porto 1930
EARLY SHORT FILMS BY GUSTAV DEUTSCH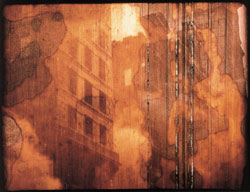 Tradition ist die Weitergabe des Feuers und nicht die Anbetung der Asche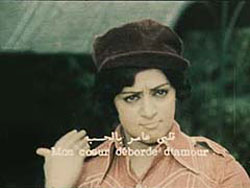 Film/spricht/viele/Sprachen
Tradition ist die Weitergabe des Feuers und nicht die Anbetung der Asche ("Tradition Is the Handing on of Fire, not the Worship of Ashes", 35mm, colour, 1min, 1999)
Some found footage - made of cellulose nitrate - the material
Fire - a threat to nitrate film - its theme
A quote - from Gustav Mahler - its message
The soundtrack - by Christian Fennesz - as the bridge.
(Gustav Deutsch)
Film/spricht/viele/Sprachen ("Film/Speaks/Many/Languages", 35mm, colour, 1min, 1995)
21 fragments of a feature film
made in India
found in Casablanca
re-worked in Vienna.
39 fragments of an Indian feature film with French and Arabic subtitles were found on Boulevard Sidi Mohamed Ben Abdallah. Of these, 21 were used to (re)construct a one minute story comprising 4 parts which take place in 4 locations dictated by the original material: 1-horse-drawn carriage, 2-swimming pool, 3-petrol station, 4-bar. The thematic areas are 1-love, 2-jealousy, 3-crime, 4-business dealings.
The length of each fragment is as found, the sequences re-ordered and separated from each other by a single monochromatic frame. Each of the four headings has a colour and a word assigned to it. The colours are as follows: 1-orange, 2-turquoise, 3-violet, 4--blue.
The words: 1-Film, 2-Speaks, 3-Many, 4-Languages. The words (in white letters) cover the whole area of the screen, with the appropriate colour as background. The pieces are preserved as found and seen as a film object - the accumulated damage, dirt, sound track and perforation are all visible.
(Gustav Deutsch)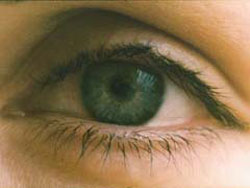 Film ist mehr als Film
Film ist mehr als Film ("Film is more than film", 35mm, colour, b/w, 1min, 1996)
55/95, 35mm, b/w, 1min, 1994
24 formula on the medium film
24 sound quotes on film history
25 frames of a blink of an eye.
Film is the word which fills the screen, white on green, silent. And then things begin to move, the writing rolls and the impressions crackle. More, however, towards the passages of the ear than in the direction of the retina, even when one sees an eye again and again. An eye - alone and larger than life - a dissected person and a film for the ears. Not only in the films of Gustav Deutsch and not only sometimes, cinema follows a convoluted logic.
24 terms associated with cinema - food for the ears and eyes - 24 two-second minimal films about audio-visual art. You read "memory" while an orchestra plays an emotionally loaded abbreviation representing all the flash-backs in the history of cinema. Read "propaganda" to a short war-like drum roll. "Language" appears and an unknown voice postulates, correctly, Godard. "Passion" is a short dialogue between screen lovers and "Light and Darkness" a salvo of percussive revolver shots. Cinema is a battlefield and an amour fou, a time between two blinks of the eye or an artificially delineated territory between two signal beeps.
Perhaps this is an advertising film, but it is one which leaves its goal behind because in a few seconds, thousands of aspects of film watching, hearing and loving are packed in a nutshell - compressed "cinephilie". (Stefan Grissemann)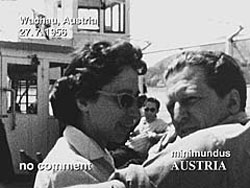 no comment - minimundus AUSTRIA
no comment - minimundus AUSTRIA (35mm, b/w, 13min, 1996)
A picture of Austria by Austrians with selected public views taken from home movies from the fifties. A fictional private newsreel in TV news style, without comment, with original soundtrack material from the archives.
(Gustav Deutsch)
Using private material from the years 1953 to 1956, Gustav Deutsch makes no comment - minimundus AUSTRIA the scene of a memorable collision between two systems of news reporting and identity mediation. From a distance of over forty years, two paradigms, two stylistic blooms, race towards one another. The good old black-and-white newsreel meets side tracks of cable Euro News. Under the logo of "no comment", almost meditative impressions of all the conceivable places and crisis spots of the world stand purely for themselves. Although in both cases the pictures appear to be interchangeable at first glance, the soundtrack and subtitles are crucial. With the newsreels preference is given to using silent material synchronised with sensational commentary and lively music. With "Euro News", the intention is that the original (perfect) sound can say more than a thousand words.
Deutsch also synchronises, that is to say he underlays the, for experimental film, opulent opening credits with fragments of optimistic obligato scores. A small girl steps from behind the Arc de Triomphe in the Carinthian Minimundus (miniature world). With this single step whole perspectives are shifted, just as a little later orchestra sounds and model railways run a competitive race. And then Deutsch adds appropriate sounds to the silent material and thus subverts the character of the no comment clips in that he invests a falsification with naturalistic authenticity.
(Claus Philipp)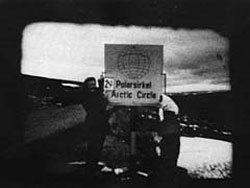 Sa. 29 Juni / Arctic Circle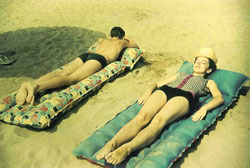 Adria-Urlaubsfilme 1954–68
Sa. 29 Juni / Arctic Circle (16mm, colour, 3min, 1990)
Two married couples on a journey from Vienna to the North Cape and back. On Saturday, 29th of June they cross the polar circle and stop by the sign which says "Arctic Circle".....
Adria-Urlaubsfilme 1954-68 ("Adria Holiday Films 1954-68", 16mm, colour, b/w, 35min, 1990)
A collection of countless holiday films filled with clichès. The material dates from the fifties and sixties when holiday filming was rather more common than now. Gustav Deutsch's approach was simple and effective: He ordered the clichès systematically, and edited them into small series. (Rotterdam Film Festival - Catalogue 1994)
World Mirror Cinema in Orion on Friday, November 18th at 17:00 and Saturday, November 19th at 21:00.
Early short films by Gustav Deutsch in Orion on Friday, November 18th at 21:00 and Saturday, November 19th at 17:00.
Gustav Deutsch will introduce both programmes in their first screening on Friday, November 18th.