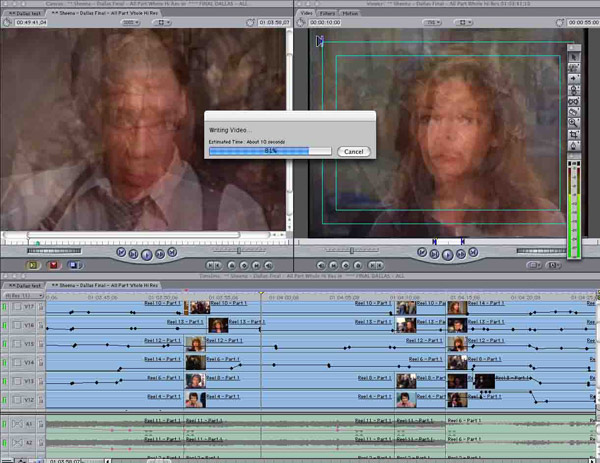 Flatpack TV
Sheena Macrae is a Canadian-British video artist, whose installation Dallas will be seen at Avanto as well as two short video works at Avanto Nightclub. Macrae's conceptual approach has been compared to such names as Christian Marclay and Douglas Gordon, but her background in mass media gives her art a special flavour: she has worked for Warner Brothers, Twentieth Century Fox, MGM Television, Universal, Disney and Cartoon Network, doing post-production of sound. The works featured at Avanto were part of her solo exhibition Retro Continuity this October in London. Below is an introductory text written for the show by the London-based artist, writer and curator Patricia Ellis.
The golden god of television is the most alluring of all. The binding experience of collective culture is hinged on the aromatic cheese of fiction: lives benchmarked by vicarious plot lines, entire nations gripped by monumentous non-moments, caught up in the escapism of the unreal. The name of the guy who tried to assassinate the pope may be long forgotten, but everyone remembers who shot JR. Its primacy in memory is a product of its formulaic design.
The quality of the epic always resides in a single breathless moment. As if the universe were anchored by sync points, where for just one video frame, one thirtieth of a second, all of its truths are revealed in fragmented, incomprehensively overwhelming glory. It's an indefinable sentiment, expansive beyond language, residing in the intangible realms of the metaphysical. A place not unlike your tv screen. Perhaps Sheena Macrae is a diviner; her ability to extricate the essence from the epic is uncanny.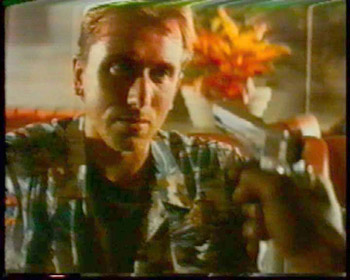 Sheena Macrae's videos might best be described as 'compressions': her massive feats of editing remix films into miniature, yet unabridged sagas, such as Pulp Fiction reduced to exactly one minute. Their effect is something like speed-reading: images fly by in rapid sequence, focussing on only the key elements of action. Macrae's process of speeding things up has the paradoxical effect of slowing down. Her medium is video; the experience is flip-book animation. Without the time consuming effects of orchestral soundtracks, indulgent excess of footage, or emotive pause, Macrae's filmic remasterings reconstitute experience as information: the familiar made strange through new presentation, genre enhanced into a compacted version of what it already was. Pulp Fiction at top speed becomes a frenzy of cartoon hyper-violence, little more than an extravagant music video for its high-octane theme song. An advert more revealing than the real promo, exposing the hard-nosed money-machine of Hollywood at its best.
The construction of the epic follows a well-worn blueprint: melodrama strung out in a chronicle of associative crescendo, building up to that one climactic moment. In Drink, Macrae remixes an entire series of Dallas to exclude all dramatic twists. Extracting only the ambience of zillionaire ranch life, Macrae weaves together 7 minutes (exact time between American commercial breaks) of boozing, Texas-style. Following the prescribed tv format, Drink uses all the tropes of expected viewing: shots of luxurious exteriors zoom into the imbibuous activity inside, dialogue is edited to a believable script revolving solely around the joys of alcohol consumption. Stripping the tv show of its convoluted plot lines, Drink distils the quintessence of soap opera, exonerating it to mind-numbing glamour without distraction.
Repeatedly using the tv show Dallas, Macrae reworks original footage into several different solutions. Deconstructing the fabric of fantasy to its easily flat-packed transportability, her full-length piece Dallas consolidates the entire 1980 mini-series into one 50 minute episode. Fading each programme to a translucent layer, and playing all 18 simultaneously on one screen, Charlene Tilton et al. become ghost-like effigies forever trapped in Victoria Principal's (pre-skin cream) Who Shot JR? nightmare. Here, Macrae's powers of post-production control slide seamlessly into the world of psychoanalysis and innuendo. Time and space collapse as 'realities' converge with maddening indistinction: JR's attempted murder, Sue Ellen's alcoholism, Miss Ellie's cancer, Lucy & Mitch's wedding, Pam's adulterous affair, Bobby's power lust. The aesthetic of technical dysfunction mirrors emotional breakdown, spiralling with the hazy imprecision of viewers' memory. It's all too much to bear, but oh-so entrancingly beautiful.
Like a drug or a diamond, a screen-size cosmos for the taking. Ergonomic, perfect, and larger than life.
Sheena Macrae's video installation Dallas (2004, 50 min.) runs at Gallery Huuto from Friday 18 November to Sunday 20 November between 12.00 to 18.00 hours.
Macrae's videos Fiction In One Minute (2000, 1 min.) and Drink (2004, 7 min.) be screened at Avanto Nightclub in the UMO Jazz House on Friday 18 November.