Drum Zymphony and other new treats
Seppo Renvall is going strong again. Drum Zymphony, created in collaboration with the drummer Zape Leppänen (Bluesounds, Kalevala, etc.), consists of shots with the camera moving through empty architectural spaces. The highly charged and delicate soundtrack makes this "zymphony" one of the most outstanding works in Renvall's already massive output. His latest works, created in an artist residence in Brazil, are a return to his simple but effective "films with one idea. " In Inside, the camera is mounted on the back seat of a car and remains static, recording the dead moments of waiting about in the traffic jam of a metropolis. In Janeiro, the artist imitates the sound of a dog barking in the distance.
From Panu Johansson we have three rarely seen clips. The romantic The Mystery and the Melancholy of a Street is reminiscent of Eino Ruutsalo's early 1950's studies of desolate nighttime views of downtown Helsinki. Ready for Adventure is a depiction of everyday absurdities from the viewpoint of a child, while the far-out and hilarious Buy a Lung Cancer! trumpets "astonishing research results" on the alleged relationship between smoking and lung cancer.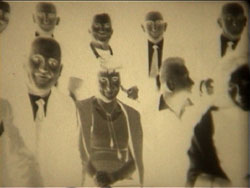 Panu Johansson: Valmiina seikkailuun
Seppo Renvall & Zape Leppänen: Drum Zymphony (2005, Finland, 15 min.)
Seppo Renvall:
Inside (2004, Finland, 4 min. 30 sec.)
Janeiro (2004, Finland, 2 min. 45 sec.)
Panu Johansson:
The Mystery and the Melancholy of a Street (2003, Finland, 4 min. 23 sec.)
Ready for Adventure (2003, Finland, 3 min. 50 sec.)
Buy a Lung Cancer! (2003, Finland, 2 min. 3 sec.)
Video works by Panu Johansson, Seppo Renvall and Zape Leppänen at the Avanto Nightclub in UMO Jazz House on Friday, November 18th.