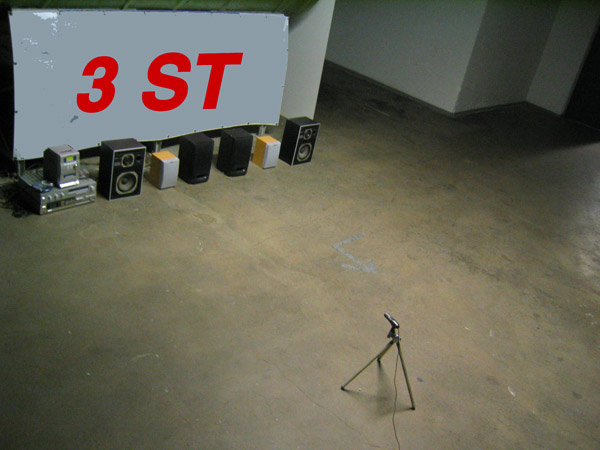 3 stereos
The Helsinki-based artists Jari Haanperä, Mikko Maasalo and Pekka Sassi are known for their conceptual works – installations, videos and films – that demystify technology and search the limits of art. While exploring similar themes, they all have their distinct styles. Haanperä's visually rich fantasy films and mechanical light installations are practical opposites of Maasalo's spartan, stripped down pieces. A good example is Maasalo's installation Condenser that was featured at ANTI festival in Kuopio, Finland and was based on the amplification of the gradually changing sounds of the cooling system of a mill. The new realities created by Pekka Sassi are like the scenarios of an alternate historian adamant on passing on all source materials of any significance. His installation xxxx presented at Galleria Leena Kuumola consisted of a video of a square shaped geometric object and a film script hanged on the walls where all letters had been replaced by the letter x.
3 stereos is Haanperä, Maasalo and Sassi's 'band project', a sparsely gigging unit, whose name they deem to be a product description. They debuted in 2002 with each member using his home stereo as his instrument, playing back CDs of electronic music individually recorded by each of them. So far all of their performances have been documented as live recordings where the audience is almost as loud as the quiet ambient noise of the trio. At the Avanto Nightclub 3 stereos will be playing these live recordings, assumedly as low as before, so that the audience sounds on the CDs and the sounds produced by the audience present can be clearly heard on the recording that will be made of the performance. Thereby they will further develop the idea behind Alvin Lucier's sound art classic I Am Sitting In A Room. In the piece Lucier recites a short 'product description' of sorts: "I am sitting in a room different from the one you are in now. I am recording the sound of my speaking voice and I am going to play it back into the room again and again until the resonant frequencies of the room reinforce themselves so that any semblance of my speech, with perhaps the exception of rhythm, is destroyed. What you will hear, then, are the natural resonant frequencies of the room articulated by speech."
3 stereos at Gloria Theatre, Saturday 19th of November.