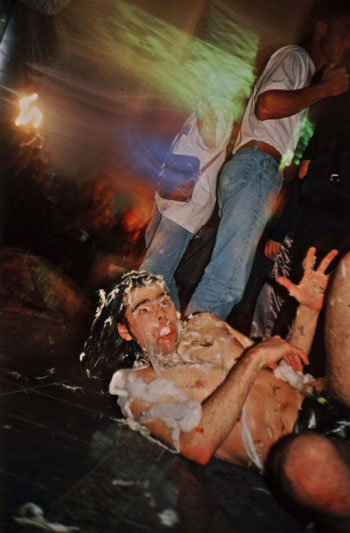 Digital gamelan
We finally have gamelan music in Avanto, but, as the picture might give away, not quite in the Balinese tradition. Instead, it will be performed by It's not fair!, i.e. the Viennese artist Michael Strohmann. Strohmann is best known as a member of Fuckhead, the Vienna group combining heavy industrial rock with the glitch aesthetics characteristic of their label, Mego. Fuckhead have even been called actionists, and, in most live photographs, they appear to play nude.
In accordance with the confusion-loving style of the Viennese experimental scene, It's not fair! is occasionally also known as Unfair. Its live performances have featured Michaela Schwentner, a video artist familiar from earlier Avantoscope programmes, as well as Didi Bruckmayr, the vocalist of Fuckhead. When Bruckmayr has participated in the project, its primary sound material has been human voice, but when performing solo Strohmann uses Balinese gamelan percussions, the sounds of which he scans on a microscopic level in order to turn them into three-dimensional soundscapes on his computer.
It's not fair! will perform at the Avanto Nightclub in Gloria on Saturday, November 19th.