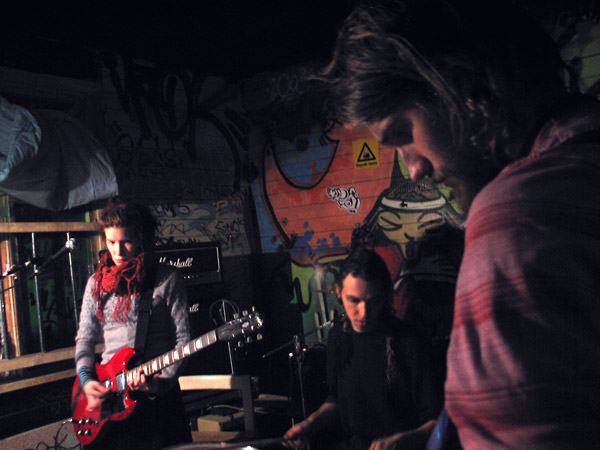 Photo by Heikki Sovijärvi
Pasilian savut: the best thing to happen in Finnish underground rock in living memory
Despite singer-guitarist Heta Bilaletdin and drummer Joddi having been in the HC-noise-punk band Terminaattoritt and bassist Ari Salonen having debuted as a 15-year-old with his punk band HC Christensen on the Suomipunk compilation cd-r, Pasilian savut have come a long way from punk rock.
Pasilian savut like to call themselves grunge jazz. Apart from distorted guitar sounds, this also means an improv-style alertness, a subtle vulnerability and a fearless willingness to play rock with free tempi and tunings - in short, by their own rules. Their uninhibited attitude towards rock's traditions echo those of Jandek, another Avanto artist in 2005, and his idiosyncratic way of playing the blues. Pasilian savut's excellent track titles shed some further light into their approach: Laitakaupungin yön oravannahkakauppiaat ("Nocturnal Backscratchers on the Outskirts of the Town"), Syyskuinen telepatia ("September Telepathy"), Takaperin pyörivä appelsiini ("An Orange Rolling Backwards")... Their eccentric release policy is worth a mention: their debut Painostava esiinotto ("Putting Forth Oppressively" is an approximate translation of the title) is a double cassette, only half of which has been released yet, and only as downloadable mp3s on their website (www.skunkki.pp.fi/painostavaesiinotto).
Pasilian savut will perform at the Avanto Nightclub in the UMO Jazz House on Friday 18 November.