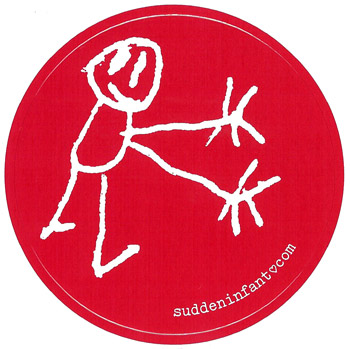 Child power
Sudden Infant is the band led by Joke Lanz from Switzerland's Schimpfluch label family, home of dada/noise/punk odds and marginals. Before describing the music, I must say that in fact it's more action than composition, performance art with objects taken directly from our life. From an adult's point of view it's art of the extreme with mundane things, but from a natural point of view it's a curiosity-driven game.
Dmitry Vasilyev: Please tell me the history of Sudden Infant and introduce the people who have been involved in it.
Joke Lanz: I started Sudden Infant at the end of 1988. Before that I played electric bass in a hardcore band called Jaywalker. Sudden Infant was always a project of my own, sometimes with various members for live performances (Rudolf Eb.er, Dave Phillips, Franz Lieberherr, Daniel Löwenbrück, Didi Gallhammer). Since that time, Sudden Infant has played many live shows all over the world (Europe, USA, Japan, Taiwan) and released lots of records, tapes and cd's. I have worked together with people like Christian Marclay, Voice Crack, Small Cruel Party and musicians from the free jazz and improvised music scene.
DV: What is the conception of art behind Sudden Infant's works?
JL: Noise music is a direct way to honestly express my deepest feelings. I like to work with minimal equipment for a maximal output. I create my music very spontaneously. It is always connected to my daily experiences in life. S.I. is very much influenced by children. My son Céleste has inspired me for many ideas and projects. Children have a lot of power and they see the world totally differently from adults. I like to watch them when they play in their very own direct way. Meanwhile Céleste is 11 years old and he has become a smart little man. Sometimes he helps me in recording sessions and even in making artwork for records and cd's. Other main influences in the work of S.I. are early punk music, Actionism, Fluxus, Dada and the anarchist movement.
DV: You said that children have been the inspiration for many of your ideas. Can you give some examples? In the artwork of your 1992 cassette there is much grim humour and sarcasm, but someone can see only the idea of children abuse...
JL: Children are very much curious about things they don't understand. Sometimes they have to destroy them to find out how they work. Their thoughts are more radical than adults' thoughts, because their feelings are direct and honest. But their inner power gets lost because society exercises too many influences to human beings through education, school, television, work etc. Children are exposed to mass manipulation. My idea is to go back to the roots, which means to an infant's original power. I like to destroy music and then rebuild it in my own way. I also like to work very spontaneously and not spend hours on doing complicated settings or preparations with equipment. Like children I prefer to play with minimal sound devices for a maximal output. Computer programs are definitively not my style.
DV: I'm very excited about your co-operation with your son. What does he think about your music, is it like a fun game? Is he able to compare it with someone else's music, pop music, to discuss it with his friends at school?
JL: Yes, for my son it's more like a game when he helps me with recordings or sound-searching. Actually he prefers pop and rock music instead of my noisy experimental stuff but probably he's very proud of his 'mad' daddy. Two years ago, when I was living in Berlin, we went out on the streets to collect weird sounds. I learned him to open his ears and to use them like eyes. I'm sure it was a very interesting experience for him. We had big fun doing this and most of these recordings finally were released on the Sudden Infant cassette sounds from the sidewalk which was packaged in a plastic bag with lots of trash from the streets of Berlin.
Dmitry Vasilyev
The original, longer version of the interview was published in issue 4 of the Russian zine Independent Electronic Music in 2003 and it can be also read in English on the zine's website: http://iem.nigilist.ru/en/interviews/si_e.htm
Sudden Infant will perform at the Kiasma Theatre on Saturday 19 November at 13:30 and 15:30 hours.