May the Circle Remain Unbroken
Saturn Reality (2007) is the Finnegan's Wake of Finnish rock documentaries, and a fabulous cul-de-sac in a stream of consciousness. The film's subject is Circle, the prolific Finnish experimentalists hailing from Pori, but it is a self-ironic vicious circle of a film that focuses on the curious world of the band and its musicians, shot on a home video camera. Jussi Lehtisalo, Mika Rättö, Janne Westerlund, Tomi Leppänen and Tuomas Laurila appear in the film as if they were acting out themselves.
The film is nominally centred on the recording sessions of Miljard, one of the latest albums by this extremely productive band, whose output includes 28 albums in 16 years. Starting out as a traditional rock documentary, the film soon runs loose on various sidetracks: to the depths of a forest, onto a frozen lake, into the darkness of night. The band's primeval music becomes the soundtrack for magic rites performed in nature. The musicians meet the mysterious Oracle of the Reed Sea, a strange meteorite has landed in a snowy landscape, and so forth. What matters in Circle's fantastic world is totality of vision, while details are treated somewhat generously. The new genre the band has coined, NWOFHM (The New Wave of Finnish Heavy Metal), may just as well mean fragile atonal piano improvisation or catatonic one-note walls of sound. Inspired by the ritualistic films of Stan Brakhage and Kenneth Anger, the film moves to the beat of double and triple exposures, the atmosphere balancing in the timeless opening between childish horseplay and reckless pathos. Enthusiastic live commentary can be heard beside the camera by the director/cinematographer, Pori's multi-talented craftsman of the psychedelic, Esko Lönnberg. His earlier works include the splendid concert film with Doktor Kettu (also from Pori), shot through a distorting lens.
Mika Taanila
Saturn Reality (Finland, 2007, 100 min, Finnish dialogue, English subtitles)
World premiere
Kiasma Theatre on Friday, 16 November at 7 pm,
second screening on Saturday, 17 November at 7 pm.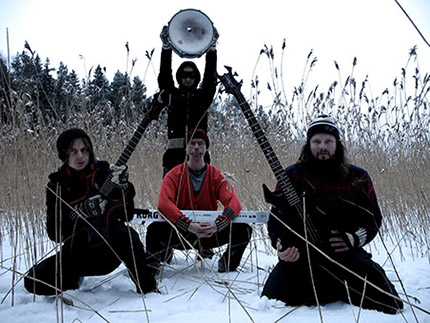 Circle
photo: Petri Hagner